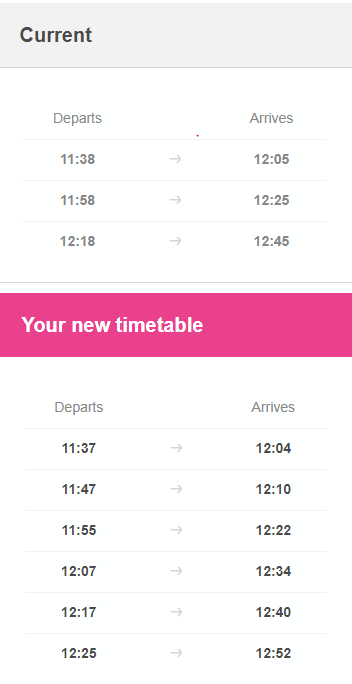 Offpeak M-F service pattern Palmers Green to MoorgatePassengers using Great Northern and other rail services operated by Govia Thameslink Railway are being consulted about draft timetables due to come into effect from May 2018.  The deadline for response is 27 July.
The previous consultation phase was held last autumn, when passengers were informed about proposed service patterns (see this earlier report). Under the proposals, Palmers Green will be served by "Great Northern Metro" services running into Moorgate.  Offpeak train frequencies will be increased considerably compared with the current timetable: six trains an hour on Mondays to Saturdays and four trains an hour on Sundays.
However, because of line capacity and signalling constraints it is not possible to run so many trains if they all call at all stations, so a more complex offpeak stopping pattern is being introduced.  As already happens in peak hours, some trains will not call at Bayford, Crews Hill, Grange Park and Bowes Park.  As a consequence, at Grange Park and Bowes Park the offpeak frequency increase will be smaller - from three to four trains and hour.  Offpeak frequencies will actually be reduced at Bayford and Crews Hill - from three to two trains an hour.
From a local perspective, the aspect of the previous consultation phase that proved most controversial was peakhour services from Grange Park to Moorgate and vice versa, which would see frequency reductions (one less train an hour) during some of the peak. A petition opposing the changes was signed by 882 Grange Park passengers.  Without doing a detailed comparison of last year's proposals with the draft timetable, it's difficult to assess whether the petition led to any changes.