Message from Emma Rigby, Love Your Doorstep Enfield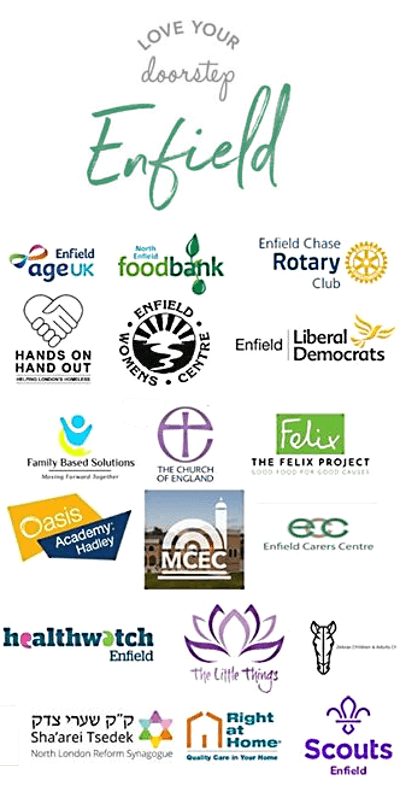 Enfield Community Working Together
To all residents,
Over the last week we have been working on a plan for the borough prior to the hit of the Coronavirus.
I'm happy to inform you that the offering is now in place and all we can do is our best to help.
We are working with over 30 local charities, community organisations and not for profits and opened up lines of communication with them immediately in anticipation for what may come.
We have had volunteers register from across the borough, and they have been split up into 3 areas: Enfield North, Enfield South, and Edmonton.
What we can offer:
If you are vulnerable, and you are in need of food and supplies we are working with charities to arrange to bring these to you.
If you are isolated at home and can't get out to go shopping, we have local businesses that can deliver full meals to you, or offer a shopping service or even pick items up.
If you need help we are here to help so please reach out by filling in this form. We have people waiting so please don't think twice.  https://forms.gle/RjrM1mQrCv8HPmVKA
If you would like to donate to the cause you can here: gf.me/u/xrhfzr
Who we are working with? Here is a list and it's getting bigger every day.
Love Your Doorstep
The food bank
Enfield Chase Rotary
The Little Things UK
Zebras Charity
St Andrews Church Enfield Town
Broomfield School
Father Stephen: Vicar St Michaels
Family based solutions
Right at home Enfield
Cooking champions
Southgate Rotary Team
Healthwatch Enfield
Hands on hand out Homeless charity
Eco Cusine
Palmers Green Mosque
Rob Wilson: Liberal Dems
Age UK Enfield
Enfield Carers Centre
Enfield Scouts
Palmers Green Mosque
Father Peter Godden: Vicar St Johns & St Lukes
The Felix Project
Enfield Womans Centre
Rabbi Daniel Epstein
Joanne Laban: Leader of the Conservatives
Lyds Community Patrol Committee Members
Love Your Doorstep Team
Francis Sealey: Enfield Voices
Four Hills Music: Martyn
Enfield Chase Cllr: Cllr Hassan Yusuf
Rabbi Daniel Epstein
Oasis Hadley
Cllr Yasemin Brett
Richard Woolf of Shaare Tzedek Synagogue
If you would like to register to help you can join the Enfield Coronavirus Help Facebook Group.
Posted at 8pm on Tuesday 17th March on Facebook