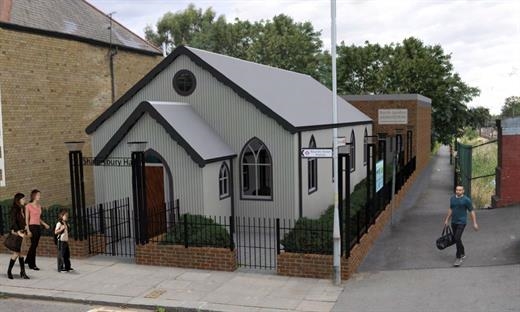 North London Samaritans are now 70 per cent of the way towards raising the £15,000 they need to be able to afford to rebuild Bowes Park's "Tin Tabernacle", turning it into a centre for their life-saving activities and a hub for the local community.  Funds received a big boost on Sunday, when Myddleton Road Market stallholders and shopkeepers raised a total of £925 for the project. Future fundraising events include two concerts taking place in September.
The plan.  To turn this...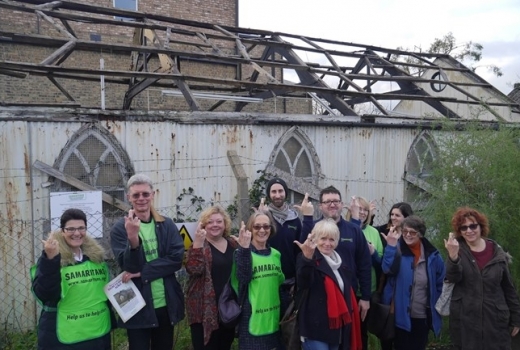 ...into this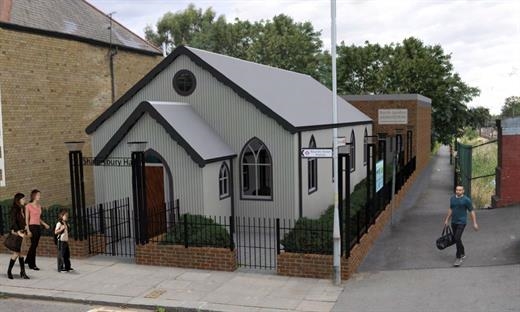 The £15,000 is the amount the Samaritans need to top up a grant of £545,000 from the Big Lottery Fund.  So far donations via Just Giving amount to just over £10,000. Funds received a big boost on Sunday, when Myddleton Road Market raised £925 for the project. They hope to start building work in the autumn and open the rebuilt Shaftesbury Hall next summer.
North London Samaritans provide emotional support 24 hours a day to people experiencing anxiety, distress,or suicidal feelings across the boroughs of Enfield, Haringey and Barnet. As a branch it is entirely self-funding, receiving no money from the central organisation. At the moment their volunteers use a small flat on the North Circular as their base for taking phone calls, but the premises are unsuitable for face-to-face interviews, which are another important part of the work of Samaritans.
The refurbished "Tin Tabernacle" will allow both telephone and face-to-face work in a pleasanter environment, away from the noise and pollution of the North Circular.  In addition, more than thirty organisations and individuals have expressed interest in using the new facility for a range of community activities.
Links
Rebuilding Shaftesbury Hall Just Giving Page