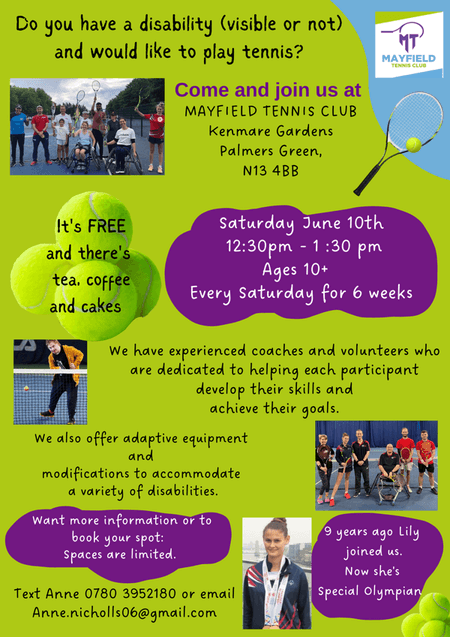 Starting on 10th June, Mayfield Tennis Club in Palmers Green is offering free disability coaching sessions. The sessions are at 12.30 on Saturday afternoons and will run for six weeks.
The club is wheelchair friendly with access to the clubhouse courts and disabled toilets;
coaches and volunteers have been trained to support you and help you enjoy playing tennis activities;
you will be welcome, whatever your disability: visible, intellectual, neurodiverse, deaf, blind;
parents/carers will be welcomed into the clubhouse and tea/coffee and cakes provided
the club has specialist adaptive equipment to meet most needs;
and brand new courts to play on.
Space on the sessions is limited, so you'll need to book. If you're not sure whether it's for you, just give Anne Nicholls a call.
It will be good fun, whatever your ability - from complete beginners to those who may have played a little. Lots of volunteers on hand to help, led by qualified LTA coaches.
Phone/text email Anne for more info or book your space: