What's in the August Enfield Dispatch?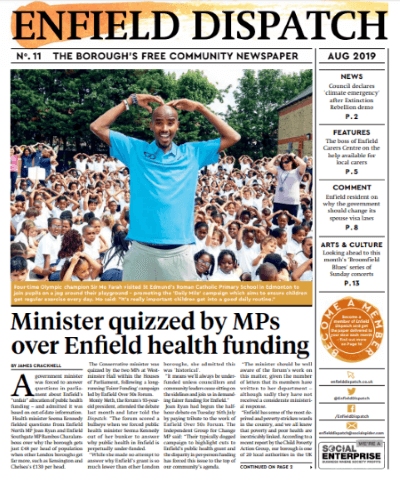 The top story is the government minister being quizzed by MPs over Enfield's "unfair" public health funding allocation - and admitting that it's based on out-of-date information.
On Page 2 following protests by Extinction Rebellion, the council has declared a 'climate emergency'.
On Page 5 the boss of Enfield Carers Centre explains what help is available for local carers.
On Page 6 TfL's proposals to build on station car parks get slammed.
On Page 8 an Enfield resident argues why the government should change its spouse visa laws.
On Page 13 there's a look ahead to this month's 'Broomfield Blues' series of Sunday concerts.
And on Page 15 local rugby club Enfield Ignatians previews the new season.