"If we give PG a facelift, good things will be triggered."
A dozen words that sum up the thinking behind an initiative called "Reimagining Palmers Green" that has the goal of helping our shopping parades not just weather the storms currently afflicting high streets everywhere, but become "a thriving, local, multi-purpose visit centre".
"Facelift" is a rather modest description for what is actually an ambitious project, but it does emphasize the centrality of the visual aspects of PG's townscape to the work that the small team behind Reimagining Palmers Green have been quietly getting on with for the past couple of years, in conjunction with local traders and Enfield Council.
A second important factor is the types of business occupying the shopping parades. To survive in the Internet age high streets need more than just retail. They need to identify what local people want and provide it.
Work with the buildings, rather than against them
For Reimagining Palmers Green the appearance of our shopping parades is key to their future prosperity. A visually attractive townscape would bring in visitors and encourage spending, reduce the time units were vacant between lettings and by increasing civic pride reduce littering and fly tipping.
The parades were built to high visual and structural standards, but from the 1950s on the shopfronts have been subjected to haphazard and unsympathetic "modernisation", while the handsome upper storey frontages have been neglected, giving the impression of a town centre that is not cared for.  A properly enforced shopfront design code and the installation of period shop fronts would create a local community vibe more like a village than a through route.
Drawing inspiration from elsewhere in London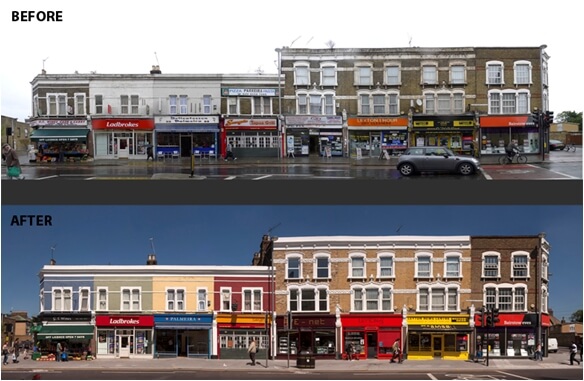 An example of renovation elsewhere in London: shops in Leyton High Road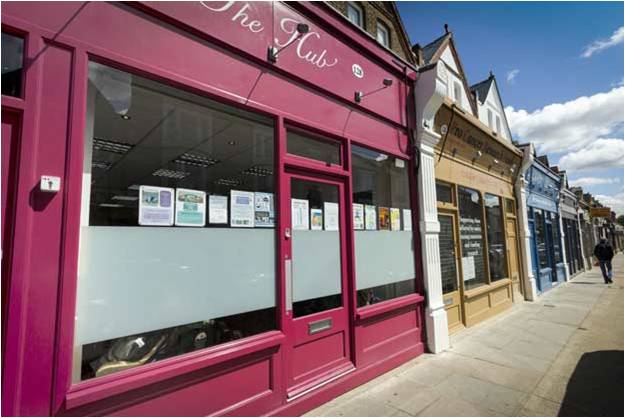 Restored shopfronts in Myddleton Road, Bowes Park
"The style and designs left over from the 1980s/90s, the sad, faded, plastic efforts that we're suffering today, are not creating that stylish and attractive environment to attract the modern customer."  Far better to work with the buildings, rather than against them, go back to traditional materials, window sizes, door positioning and so on. By doing so it is possible to provide a "touch of class", but at the same time use modern branding, colours and design sensibilities.
This approach has been used very successfully elsewhere in London, notably in Tufnell Park, Leyton High Road, Myddleton Road (Bowes Park) and along a small section of Harringay Green Lanes - bringing increases in footfall and trading. 
Going back in time for a 21st century Palmers Green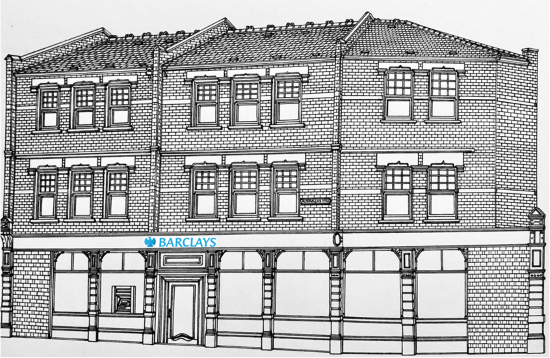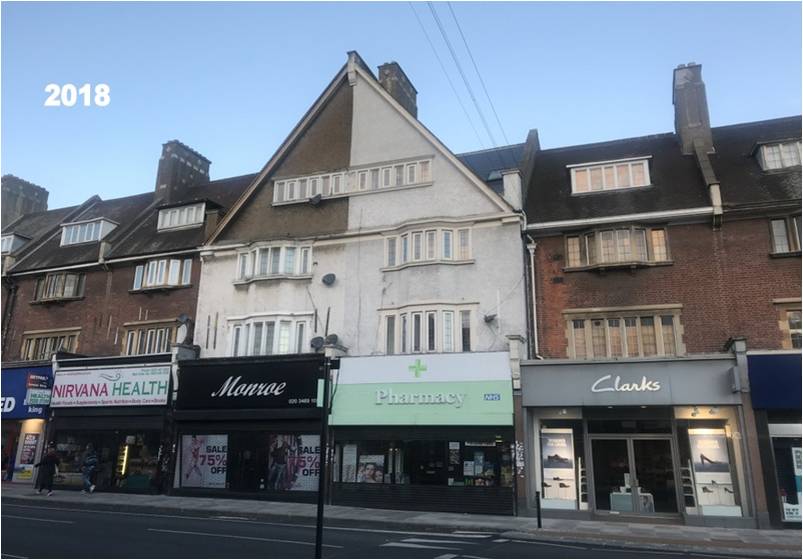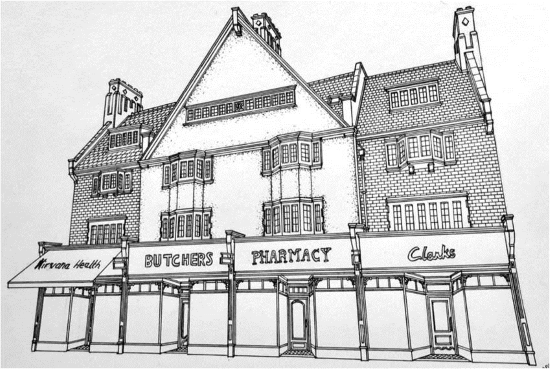 Artist's impressions of what renovated buildings in Palmers Green might look like
For many more examples and a much more detailed discussion of how the town centre and individual buildings could be enhanced, see the  Reimagining Palmers Green Instagram page.
Not just retail
Of course, making the town centre more visually attractive is only part of the solution.  Online shopping means that the late 20th century retail scene in the UK has gone for ever - and, it seems, younger people are in any case less obsessed with "retail therapy".
Reimagining Palmers Green believe, however, that customers are there for businesses who provide them with what they want.  High streets need social, leisure and community uses to draw footfall.  They point out that independent shop openings are on the rise.  And they set a challenge for businesses:  people are prioritising experiences over purchases – how can you combine them?
Working with traders, landlords and the council
Reimagining Palmers Green suggest ways that landlords and traders can meet the challenges by working together and with community groups and employing modern methods, including social media   And, of course, working with the council and individual councillors.
On the subject of Enfield Council, Reimagining Palmers Green say that they've been really supportive, open to ideas and ready to help where they can.  Planning policy and the stance taken towards change of use for retail premises will be important for ensuring the required diversity of businesses for a thriving Palmers Green.