A six month project for people with dementia to access specialist Cognitive Stimulation Therapy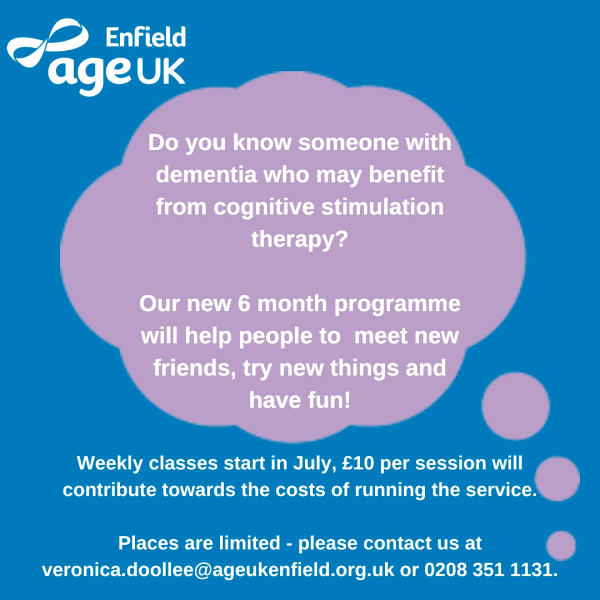 Would you like to join our exciting new group for people with dementia?
Cognitive Stimulation Therapy has been proven to provide:
A fun, enjoyable way to increase levels of happiness
A sense of belonging
A chance to make new friends
A chance to try new things and improve confidence
Improved communication, including reading and writing
Improved memory and mental ability
More energy
Increased physical activity
Maintenance Cognitive Stimulation Therapy sessions offer an opportunity to meet other people living with dementia, and take part in a wide range of activities in a friendly, caring and supportive environment, including:
Discussions
Word games
Physical activities
Quizzes
Arts and crafts
Music
The project will be run by trained and experienced staff and offer a choice of face to face or virtual sessions using zoom. Digital training and one to support is available for those taking part in the virtual sessions.
Participants must attend all sessions, which will take place once a week for 6 months, starting in July 2021.
There is a small contribution of £10 per session to this service to help support staffing costs, resources and long term sustainability.
If you or someone you know would benefit from this programme, please contact veronica.doollee@ageukenfield,org.uk or call 020 8351 1131
Places are limited so please let us know of your interest as soon as possible
Age UK Enfield is the operating name of Age Concern Enfield. Company number: 3352062 Charity Number: 1063696