Theatrical storytelling workshops at the Ruth Winston Centre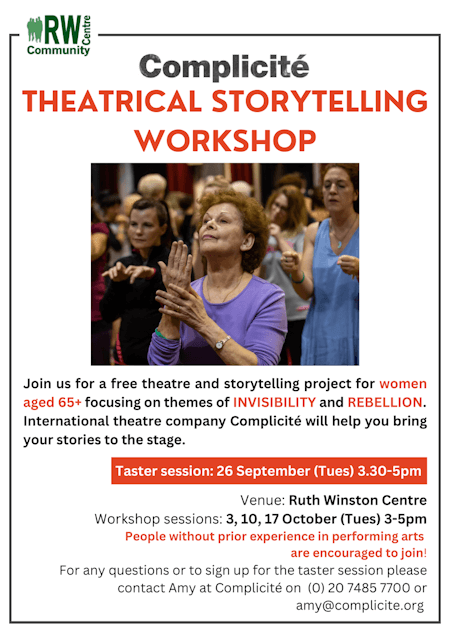 International touring theatre company Complicité is collaborating with Ruth Winston Community Centre to hold a free theatre and storytelling project for women aged 65+ in the neighbourhood, as a part of our engagement programme for our current production Drive Your Plow Over the Bones of the Dead.
Theatrical storytelling workshops
Venue: Ruth Winston Community Centre (190 Green Lanes, London N13 5UE)
Dates: 3,10,17 October (Tuesday) 3-5pm
Free of charge
Target audience: Women aged 65+
We particularly encourage people who have not participated in performing arts projects before to join us.
The workshops, led by Complicité's experienced practitioners, will focus on themes of invisibility and rebellion - whatever that means to the participants - and use gentle physical theatre-making techniques to bring the participants' stories to life. The sessions will be tailored to the interests of the group and end with tea and biscuits to create a welcoming space for participants to share their stories with us.
We are currently recruiting participants to join our free taster session, where they can meet our practitioners and have a sense of the aims and activities we hold in the workshops -
Free taster session