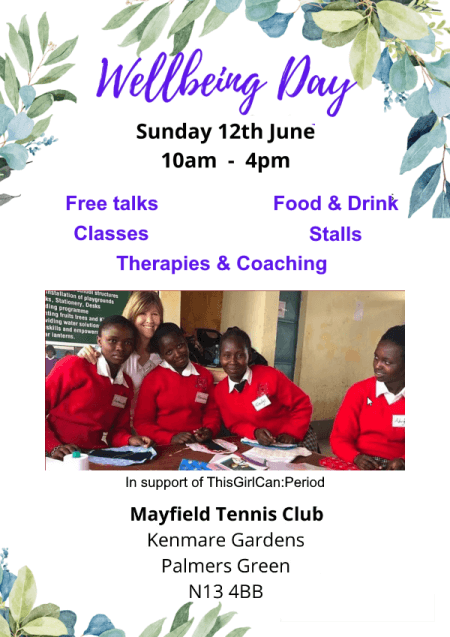 A couple of weeks ago I wrote about Anne Nicholls' work to relieve period poverty, both initially in Kenya, and more recently in Enfield. Later this month she's off to Kenya to continue her work, but before that, on 12th June, in conjunction with Jackie Lee of North London Yoga, she's running a Wellbeing Day at Mayfield Tennis Club.
They've invited lots of small, local businesses to join them and share their expertise on fitness, healing, health or general wellbeing.
Profits made form this day will go to ThisGirlCan:Period to support the work that Anne does in Kenya. She is leaving on 18th June to complete several projects which deliver menstrual and sexual health education together with a reusable pad workshop. This, along with a dignity bag containing reusable pads, gives girls who may not go to school when they menstruate a chance to continue their education and a choice for later life.
Classes and treatments should be booked in advance online as spaces are limited.
Entry to hear the talks, workshops and stalls is £4 online.
Full details of the event are in the PGC What's On section.