This report has been edited and the presentation updated to take account of new information obtained since it was originally published. Thanks to Cllr Dinah Barry for help in obtaining the new information. (The original version can be viewed here.)

In July last year a trade journal serving the "coin-op amusement, casino and igaming industries" reported that a German company was opening a "rash of new UK arcades" using the Merkur Slots brand name. It now turns out that one of the town centres where the rash will be breaking out is Palmers Green, and some locals are not at all "amused" about the prospect of the new arcade.
The premises where Merkur Slots is planning to open a new branch is 292/292A Green Lanes N13 5TW, in the same block as the former Store 21. Its last tenant was a betting shop. A small notice was attached to the outside of the building in December, notifying passers-by that Cashino Gambling Ltd were applying for a Bingo Premises Licence and giving a deadline of 27 December last year for objections.
At the time of writing it is known that planning permission has been obtained but it is unclear whether the Bingo Premises Licence has been granted.
---
Residents raise the alarm
Palmers Green Community has been sent a copy of an email to councillors in Palmers Green and Southgate Green wards from a group of residents concerned about the plan to open what will clearly not be a "Bingo Premises", but rather a gambling arcade. They claim that the notice attached to the empty shop did not meet the specifications laid down by the council and are therefore requesting advice from the councillors about how to challenge the licensing decision. They also point out that the period during which objections could be lodged was at a time when Covid-19 cases were particularly high and people were staying at home.
"Dear Councillors..."
In their email to councillors the residents state that "The majority of local people are still unaware that Palmers Green shopping centre will be subjected to a 24-hour slot machine arcade with bright neon signs on the outside, under the guise of an application for 'Bingo', which is highly misleading."
They attach photographs as evidence that the notice did not meet Enfield Council's specifications: it was printed on white, not pale blue, paper using a font size smaller than the minimum required 16 point.
As regards the effect on the town centre, the residents say that four betting shops is already more than enough:
"With unemployment and youth disengagement at the highest level it has been for years, it is irresponsible for Enfield Council to give its approval to a 24-hour gambling centre. This is likely to profit at the expense of those in society who least can afford it, whilst increasing the likelihood of antisocial behaviour and problem gambling.
"As part of the 'New Local Plan,' Enfield was tasked with supporting the community in regenerating our shopping area with innovative and creative ideas, not allow our once thriving High Street to deteriorate into a string of betting shops and amusement arcades. This kind of establishment signals the decline of an area, not regeneration. It will be detrimental to the plans to re-imagine Palmers Green and make it an attractive place to shop and relax."
Where are we now with the applications?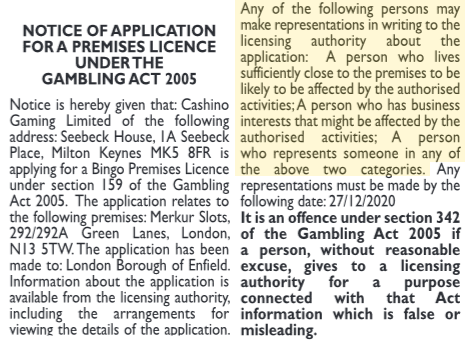 The planning application for a change of use of the premises from betting shop (Sui Generis) to an adult gaming centre (Sui Generis) was granted on 29th January (reference 20/03849/FUL). A separate application for the installation of 3x internally illuminated fascia signs and 1x non-illuminated fascia sign (reference 20/03850/ADV) was granted on the same date. (To see the applications and related documents go to the planning register and use the search function.)
Separate to these planning applications is an application for a Bingo Premises Licence. In addition to the (possibly non-compliant) notice on the premises, an advert, in particularly small print, was carried by the Enfield Independent during the first two weeks of December 2020. (This is reproduced here enlarged and rearranged into two columns for legibility.)
At the request of concerned residents of Winchmore Hill ward, Cllr Dinah Barry has made some enquiries with council officers. Her interpretation of their advice is that it might still be possible to submit objections to the licensing application on the following grounds:
Prevention of crime and disorder
Public Safety
Prevention of Public nuisance
Protection of children from harm..
Useful links on the council website
Gambling Act 2005: LBE Statement of Principles 5th Edition January 2019