Many PGC readers will be frequent visitors to central London, whether for work, shopping or pleasure.  Almost all will arrive by public transport and then reach their destinations on foot.  Often they will be using very crowded, and in some places very narrow, pavements to do so, and have difficultly crossing roads jammed full of cars and taxis.  Three central London boroughs are currently consulting on changes to their road networks that are designed to shift the favour somewhat away from car drivers and towards the interests of pedestrians and cyclists.
If you visit the areas that are being consulted on, or neighbouring areas that might be affected, there is no reason why you shouldn't respond to the consultations.
City of London
Over the last couple of years the Square Mile has been developing the most radical proposals for improving the relative status of pedestrians and cyclists versus car drivers.  The removal of cars and taxis from the Bank junction at certain times of day is the most visible sign of this so far - and has brought a furious reaction from some taxi driver organisations, who this week deliberately jammed up the junction, severely affecting bus journeys.  (They've also been campaigning against the East-West cycle route along the Thames under the slogan "Unblocking the Embankment").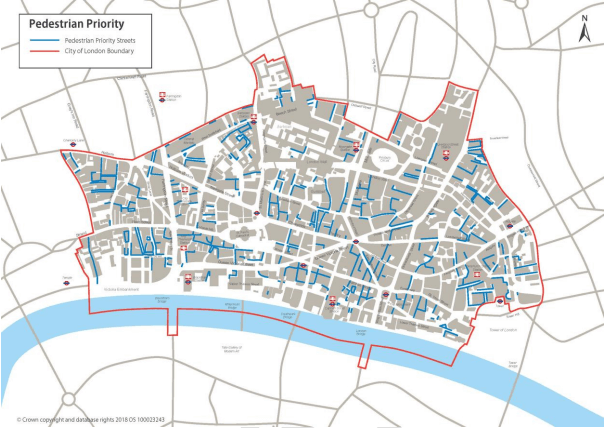 The City of London's eventual plan is to restrict motorised traffic to main roads only and to reduce the speed limit to 15mph.  The boldness of the City Fathers' vision is clear from the indicative map above, taken from the draft City of London Transport Strategy.
Currently the City is carrying out a survey designed to understand better how to reduce danger to pedestrians on its streets.  Click here to respond to the survey.
Oxford Street
Westminster Council have taken a very different line than the City, as exemplified by their recent refusal to implement the plan to pedestrianise Oxford Street that had been developed by Transport for London.  Anyone walking the crowded pavements there or in Soho will clearly see that pedestrian safety and comfort is not top of Westminster's priorities.  They have now consulting on alternative proposals for the Oxford Street area.  The pedestrian-rights group Living Streets has commented in detail on the proposals. The consultation ends on 16th December.
See the Living Streets suggestions for how to respond to the survey.
Camden
Some important parts of central London are in the London Borough of Camden - they include Kings Cross and Euston stations, Tottenham Court Road and Holborn.  Camden's draft Transport Strategy is also out for consultation, the deadline being 14th December.  Their priorities include increasing walking and cycling, improving public transport in the borough, reducing car ownership, car use and traffic levels, improving the quality of our air, and making our streets and transport networks safe, accessible and inclusive for all.