A few weeks ago Francis Sealey of GlobalNet21 and Enfield Voices uploaded an interview with Sarah Cotton about the Palmers Greenery community café in Broomfield Park. The interview is packed with information and ideas and I've picked out just a few of the points below. Watching the interview, if you weren't aware of it already, you'll soon realise that, in Sarah's words, the Greenery is "so much more than a park café".
A hub to coalesce around
The Greenery has now been in operation for seven years, but its origins go back more than a decade, to a time when Sarah was looking for ways of using the professional skills she had built up for community purposes. As a young mother of a young baby she was finding it difficult to meet like-minded people - Palmers Green at the time was lacking in social and community enterprises, something which, she says, is no longer true (which, of course, is thanks to Sarah herself, amongst others).
However, she persevered, made new acquaintances and together they discussed what could be done. The conclusion was that PG needed a hub, somewhere for community-minded people to coalesce around.
Sarah discovered that there were many people in Palmers Green who badly missed the café that was located in Broomfield House before it burnt down, and this led to the idea of converting a disused toilet block into a community café. A project which eventually came to fruition in the form of the Palmers Greenery (the name was Sarah's husband's idea).
So much more than a park café
From the outset the Palmers Greenery was based around the principles of volunteer operation and environmental sustainability. Sarah sees it as a "vehicle for opportunity" - for instance, giving volunteers a way of working for their community and learning new skills. Those benefiting include Year 11 and 12 students from Enfield's SEN school, West Lea, who pre-pandemic were running the café two days a week (this scheme will resume in September, on Thursdays only).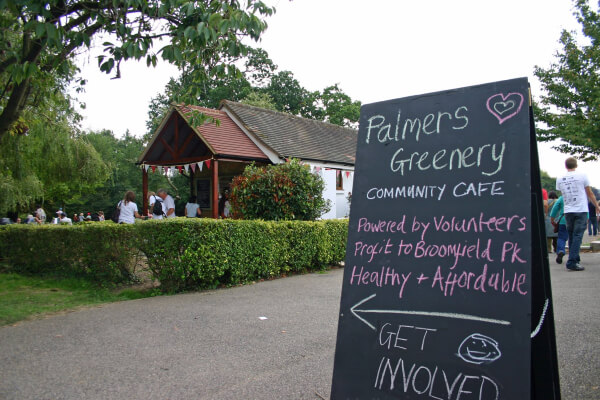 The Palmers Greenery is "powered by volunteers"
Future ideas
As for ideas for the future, Sarah says she has several, but they will need people to take them forward. In particular, the lack of recycling in Enfield's parks, including Broomfield, needs to be tackled.
A related concern is littering - and not just in parks. Sarah has a concept of a community patrol that would help change people's hearts and minds. Another idea is to create a photo diary of all the litter picked by volunteers, highlighting how most of it could be reused, recycled or at the very least taken home by the litterers.
What is needed, Sarah says, is for someone with the required skills to come forward and "take this enormous litter/waste bull by the horns".
Well, maybe someone reading this could be that person and perhaps it will be watching the interview that will inspire them to step forward.