A community bike ride on 16th September will take participants around the borough to view some of Enfield's most interesting architectural projects.
A community bike ride on 16th September, starting and finishing at Wood Green Common (near Alexandra Palace station), will explore some of the most interesting recent architectural projects in two London boroughs - Haringey and Enfield, but mainly in the latter.
As well as the start point in Barratt Gardens N22 6UU, people will be able to join the ride in Palmers Green (outside the Fox) at 10.20am and in Southbury Road EN1 1YX (near Enfield Town station) at 10.50am.
The ride, around 30 miles in all, will proceed at a leisurely pace ("at the rate of the slowest riders") and will be suitable for "sensible" children who have sufficient stamina to stay the course. The main organisers, Haringey Cycling Campaign, have a proven track record of organising safely marshalled family-friendly bike rides, all of which involve qualified mechanics, first aiders, and cycling instructors ready to help if anyone runs into a problem. Enfield Cycling Campaign, Haringey Living Streets and Better Streets for Enfield will also be involved.
The architectural bike ride is just one of hundreds of events taking place throughout the capital during the two week-long Open House Festival.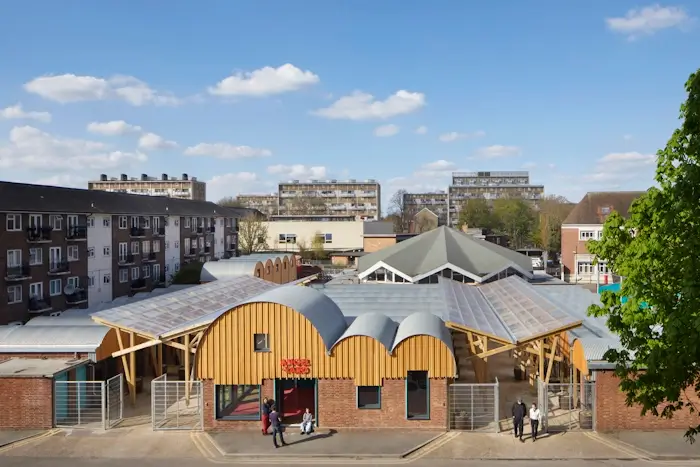 The complete Angel Yard development from above (Photo: Jack Hobhouse)
Sites visited will include the terrace of 3-storey town houses in Ordnance Road, Enfield Lock, which were built in 2018, behind which is Sparkbrook Way, a tree-lined cobbled mews where there are single-storey homes with vaulted roofs.
Another Enfield Council housing development on the itinerary is Dujardin Mews in Ponders End.
The ride will also take in recently built industrial buildings: the Beavertown Brewery in Tottenham, now owned by the international brewing giant Heineken; and Building Bloqs, a "makerspace" near the River Lea in Upper Edmonton.
As well as new build, the tour will include restoration projects: the diversion of the Turkey Brook in Albany Park from a concrete lined channel into a much more natural looking meandering course through the park, with accompanying wetland features; the restored Enfield Lock House on Enfield Island; and the imaginative transformation of some disused garages at Snells Park, Upper Edmonton, into Angel Yard, small units designed to get new entrepeneurs off to a good start.