In the last few days both the Mayor of London and Enfield Council have published new strategy documents relating to tackling problems with the availability and affordability of housing within their respective geographical areas of responsibility.
The Mayor has published a "blueprint report" which sets out his vision for reforming London's private rented sector. Enfield Council is bundling together two draft strategies for consultation under the overall titleThe right home for everyone - a draft Strategy for Preventing Homelessness and Rough Sleeping and a draft Strategy for Housing and Growth.
---
---
Building more homes and better homes in Enfield
The proposed strategy for housing and growth is summarised in this infographic.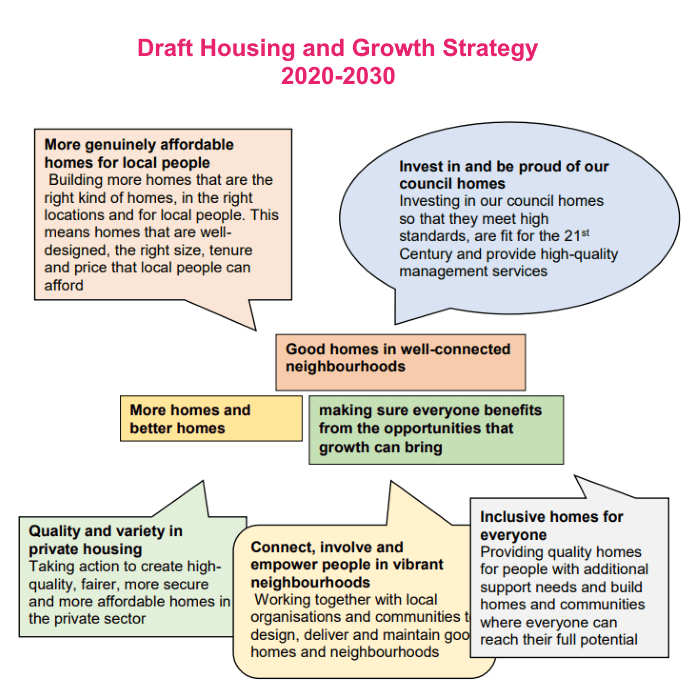 Five guiding principles are listed:
Affordable to Enfield residents
This means creating developments where different people on different incomes can live
Health promoting
This means helping people to eat well, be smoke free, physically active, emotionally well and live in thermal comfort
Digitally connected
This means creating homes that will be fit for future technology, like providing Fibre-to-the-premises and smart homes/meters that help people with disabilities or health conditions
Child, age and disability friendly
This means providing safe outside play provision, helping all residents to stay safe in their communities and when out and about and providing places where people can meet socially
Environmentally sustainable
This means using renewable heat sources, creating safe travel routes by foot and bicycle, creating community gardens and green spaces and promoting recycling and reusing
---
Tackling homelessness in Enfield
The background to the draft strategy to decrease homelessness and rough sleeping in Enfield includes the following:
Homelessness has increased in Enfield by 250% since 2011/12 – Homelessness levels in Enfield are higher than London and national averages
In Enfield, there are almost 3,500 households in Temporary Accommodation
Private Rented Sector rents have increased by 37% since 2011
Eviction from the Private Rented Sector is the biggest cause of
homelessness in Enfield
Rough sleeping in Enfield has increased significantly in recent years
In 2018/19, Enfield spent over £66m on the Temporary Accommodation service, with a net cost to the local authority of £7m.
 The main points of the draft strategy are shown in the figure below: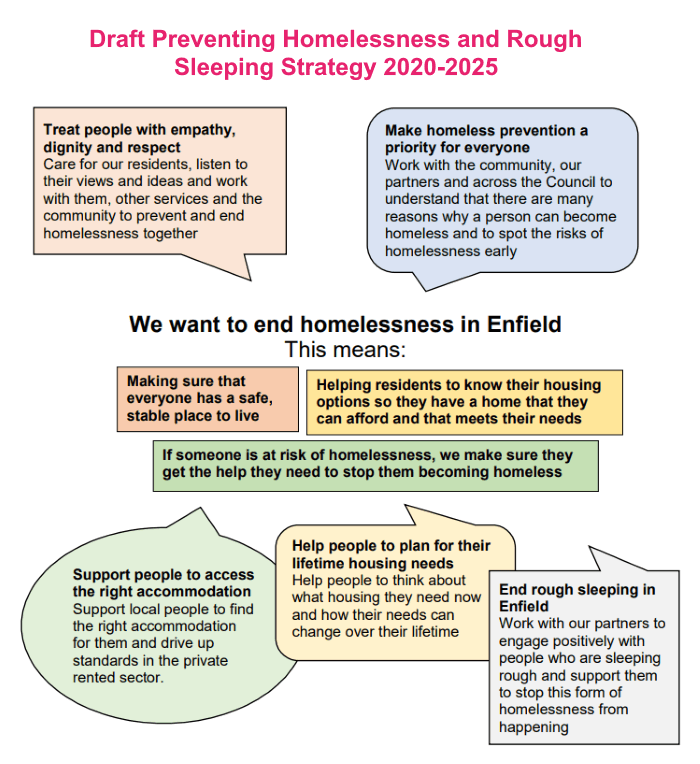 Details of the consultation
Enfield Council is developing two new strategies which will have a huge impact on how we will achieve our ambition to create a lifetime of opportunities in Enfield. The Housing and Growth Strategy shows our approach to building more homes and better homes that will benefit everyone in Enfield. The Preventing Homelessness and Rough Sleeping strategy details how we will work across the Council, with our partners and with the community to prevent and end homelessness in Enfield.
Background documents
Draft strategy for Preventing Homelessness and Rough Sleeping
Draft strategy for Housing and Growth
Who can participate
All residents
How to tell us your views
To give us your specific views on the proposed strategies, please complete this short survey, which should take between 5 and 10 minutes to complete. 
You can also let us know your views by emailing us at 
We will also be consulting at a number of events over the summer.  You can find us here:
Craig Park Fun Day - Thursday 8th August
Cumberland Square Garden Launch - Thursday 15th August
Meyers Green Fun Day - Tuesday 20th August
Albany Park Fun Day - Wednesday 28th August
In addition we will  be visiting local community groups to consult on the strategies.  If you would like us to visit your local community group, please contact 
Start and closing dates
Starts 26 July 2019
Closes 21 Oct 2019
Further information
For further information please email 
We will soon be consulting on a proposed Selective and Additional Licensing scheme in Enfield. Please keep an eye out on our consultation page for more details.
Source: new.enfield.gov.uk/consultations/the-right-home-for-everyone