Civic-minded PG citizens were out in the rain on Tuesday afternoon replacing more than 30 wayward signs for a one-way system which had somehow detached themselves from their supporting frames and gathered together in huddles on the pavement in Lightcliffe Road and near the end of Park Avenue.
Forlorn support stands abandoned by their signs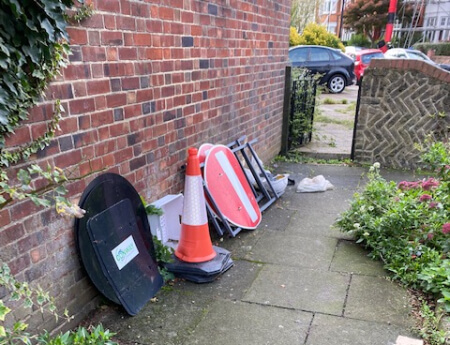 The delinquent road signs were found huddled together
The one-way system affecting parts of Park Avenue, New River Crescent, Lightcliffe Road, Windsor Road and Osborne Road was set up on a temporary basis in April in connection with the closure of Hedge Lane because of work on the water main and was due to be removed at the end of May. However, it has remained in force ever since, using temporary One Way and No Entry signs fixed on metal  frames weighed down by sandbags.
Earlier this month Councillor Tim Leaver confirmed that the one-way system has been left in place because it forms part of a planned Connaught Gardens low-traffic neighbourhood scheme. Enfield Council has submitted a bid for funding from Transport for London to implement the scheme but is still awaiting a decision.
Individual signs have previously been known to detach themselves and go for a lie-down on the pavement or in front gardens, but this is the first time they have taken mass action of this sort. Maybe they growing impatient and can't wait to become permanent? Of perhaps they are tired of the drivers that have been ignoring No Entry signs and going along streets in the wrong direction - a definite safety hazard, particularly when they go at 40mph, as one driver did last week in Park Avenue.