Saturday 27 March 2.30pm
150 Years of the Great Northern Railway's Enfield Branch
Online Event
At the Southgate District Civic Voice (SDCV) Spring Open Meeting, Dave Cockle (Chair of the Enfield Society) will talk about 'One Hundred And Fifty Years of the Great Northern Railway's Enfield Branch'.
On 1st April 1871, the Great Northern Railway opened their Wood Green - Enfield branch through Palmers Green and Winchmore Hill. The coming of the railway had a profound impact on this area at the time and arguably continues to play a major role in many peoples lives.
Join us to hear more about this momentous local event. This talk will be part of our commemoration of this 150-year milestone.
This talk is free to members of SDCV and The Enfield Society (TES).
For non-members tickets cost £5 (including a non-refundable booking fee).
If you decide to join Southgate District Civic Voice, we will be happy to reduce the membership fee to £10 to reimburse the cost of this ticket.
Please note: if you register for tickets as a member of SDCV or TES, your details will be passed to the membership secretary of the relevant society.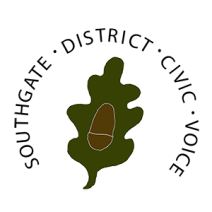 PGC cannot guarantee that all What's On information is 100% accurate. If in doubt, we recommend you contact the organisers or visit their website using the More Details button.