The campaign for a large new park to be created using currently unloved land surrounding the Banbury Reservoir is gathering pace. In addition to an ongoing survey seeking people's ideas, a "community hub" meeting has been organised for Thursday 28th September.
Community Hub: A new park for Edmonton?
Thursday 28 September 10.00am - 4.00pm
Fore Street Library (Living Room Library), 109 - 111 Fore St N18 2XF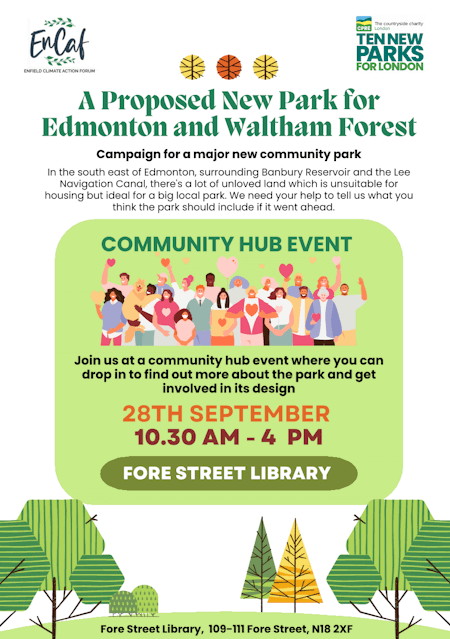 A proposed new park for Edmonton and Waltham Forest
Campaign for a major new community park
In the south east of Edmonton, surrounding Banbury Reservoir and the Lee Navigation Canal, there's a lot of unloved land which is unsuitable for housing but ideal for a big local park. We need your help to tell us what you think the park should include if it went ahead.
Come and tell us your views
Join our Community Hub on Thursday, September 28th at Fore Street Living Room Library, where will be discussing the lack of green space in Edmonton and what we can do, including proposing a brand new park in the Banbury Reservoir area.
The day will last from 10.30 am until 4.00 pm and will be organised around several sessions with speakers leading each session with a short introduction followed by engagement with those attending on what needs to be done.
What's a country park and why do we need one?
What is Banbury Reservoir Park?
Allotments and community gardens in your local park
Blue and green spaces for health and well-being
Cycling and Walking connections to communities and their homes
Water and wetlands (river, canal, reservoir) and adaptation to the climate emergency
Everyone is welcome to attend the whole day or drop into the sessions that interest them. We will publish more about each session soon.
Watch this space or use the contact form at www.encaf.org/about/contact.
Read more about the proposal for the Banbury Reservoir Park
What would you like to see in a new park? Fill in the 3-minute survey
Show map
Hide map
Fore Street Library (Living Room Library), 109 - 111 Fore St N18 2XF
See also:
A new park for Enfield: What would you like to see? (Palmers Green Community 30 July 2023)