Permanent: this process includes prior consultation on the proposed scheme design, a 21-day notice period for statutory consultees and others who can log objections; there can be a public inquiry in some circumstances.
Experimental: these are used to trial schemes that may then be made permanent. Authorities may put in place monitoring arrangements, and carry out ongoing consultation once the measure is built. Although the initial implementation period can be quick, the need for extra monitoring and consultation afterwards makes them a more onerous process overall.
Temporary: these can be in place for up to 18 months. There is a 7-day notice period prior to making the TRO and a 14-day notification requirement after it is made, plus publicity requirements. These are most suitable for putting in place temporary measures and road closures.
Source: www.gov.uk/government/publications/reallocating-road-space-in-response-to-covid-19-statutory-guidance-for-local-authorities/​traffic-management-act-2004-network-management-in-response-to-covid-19
Challenge to use of experimental Traffic Regulation Orders for A105 cycle lanes rejected
Experimental TROs - used to trial arrangements with a view to making them permanent - were used by Enfield Council to restrict parking along some stretches of the A105 cycle lanes. The consultation on the A105 TROs ran until July 2019 and a report on the responses received and decisions taken was recently published on the council website. Four of the six experimental traffic orders have been made permanent, while the remaining two have been modified in response to consultation feedback, meaning that a further six-month consultation period was required (this ends on 3rd June).
The use of experimental TROs along the cycle lanes route was challenged by opponents of the cycle lanes scheme, notably Save Our Green Lanes and Winchmore Hill Residents Association. The latter called, unsuccessfully, for restoration of parking on the west side of Green Lane between Compton Road and Station Road and removal of the cycle lanes on one side of the road along this stretch.
Reallocating streetspace in Enfield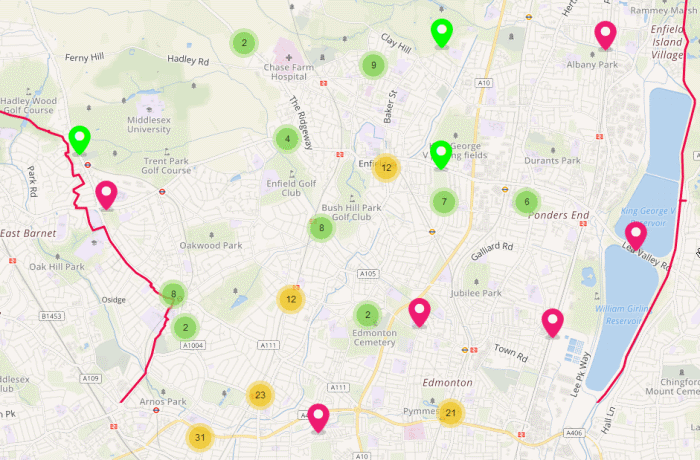 Enfield residents have already made many proposals for reallocating roadspace using this "ideas map"
As reported last week, both the Mayor of London and Enfield Council have already committed to implementing measures of the kind outlined above. Enfield Council is inviting people to submit their own suggestions using an "ideas map" on the council's Consultation Hub. The new guidance from the government will give the council legal backing to make radical changes urgently.
Links