Saturday 25 September 10.00am - 12.00pm
Big Green Climate Festival: Tour of Capel Manor and coffee with the principal
Capel Manor Gardens, Bullsmore Lane, EN1 4RQ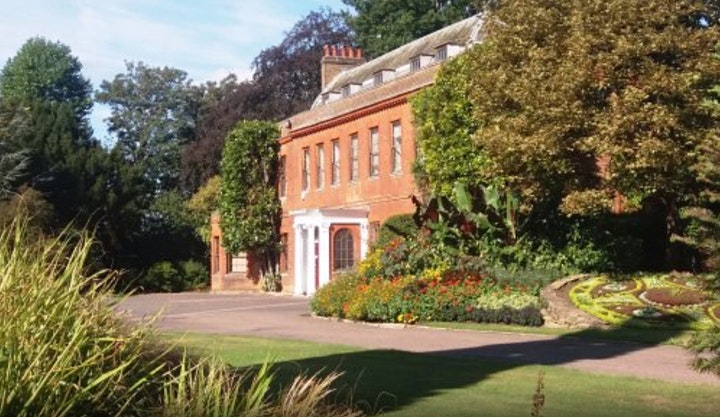 Talk by Malcolm Goodwin, Principal of Capel Manor College, on what the college is doing for climate change and sustainability
Capel Manor College is London's only specialist environmental college, offering a diverse range of full and part-time courses in further and higher education for school leavers and adults.
The College plays a vital role in the green agenda for the capital, equipping the next generation of land-based sector workers with the skills and knowledge needed to help preserve and protect London's wildlife, national parks and green spaces.
10am: meet at Capel Manor Gardens reception. Refreshments available on arrival.
Talk by Malcolm Goodwin, Principal of Capel Manor College, on what the college is doing for climate change / sustainability and what London needs for the future.
Followed by a guided tour of Capel Manor Gardens, led by one of the team who will talk about practical actions for sustainability.
The event coincides with the Bee and Honey show in Capel Manor Gardens.


PGC cannot guarantee that all What's On information is 100% accurate. If in doubt, we recommend you contact the organisers or visit their website using the More Details button.
Joining together to call on politicians to raise their ambition and champion action on climate change.
The Great Big Green Week will be largest event for climate and nature ever seen in the UK. Thousands of events will celebrate how communities are taking action to tackle climate change and protect green spaces, and encourage others to get involved too.
Nationwide, the Great Big Green Week is being coordinated by the Climate Coalition. Locally, we will be holding Enfield's Great Big Green Climate Festival, coordinated by the Enfield Climate Action Forum (EnCAF). EnCAF harnesses the expertise and energy of more than 80 different groups from around the borough. There will be walks, talks, an apple day, a food festival, a chance to try a bicycle or tricycle, a guided bike ride touring Enfield's wetlands, online events and an all-day fair - bringing concerned people together and celebrating our potential for joint action.
Upcoming Big Green Climate Festival events
The list below shows only a selection of Climate Festival events. Click on the links below to see a complete list for each day. For details of each event see the full Festival Calendar.
---
Friday 17 September

---
Saturday 18 September
Little Green Dragon Ale House, 928 Green Lanes, N21 2AD
---
Saturday 18 September
Stitch! - inside Palmers Green Post Office, 364 Green Lanes N13 5XL
---
Saturday 18 September

---
Saturday 18 September

---
Sunday 19 September
Broomfield Bowl, Broomfield Park, N13 4PZ
---
Sunday 19 September
Community Orchard, Broomfield Park, N13 4PZ
---
Sunday 19 September

---
Sunday 19 September
Hazelwood Recreation Ground, Palmers Green N13 5BJ
---
Sunday 19 September
Tottenhall Recreation Ground, Tottenhall Road N13 6LH
---
Monday 20 September
Palmers Green Mosque, 30 Oakthorpe Rd, N13 5JL
---
Tuesday 21 September

---
Thursday 23 September

---
Thursday 23 September
Barnet & Southgate College (Southgate Campus), High Street, N14 6BS
---
Friday 24 September
Bush Hill Park United Reformed Church, Main Avenue, EN1 1DJ
---
Friday 24 September
Barnet & Southgate College (Southgate Campus), High Street, N14 6BS
---
Friday 24 September

---
Saturday 25 September
Christ Church URC, Chase Side, EN2 6NJ
---
Saturday 25 September
Capel Manor Gardens, Bullsmore Lane, EN1 4RQ
---
Saturday 25 September
Christ Church URC, Chase Side, EN2 6NJ
---
Saturday 25 September
Christ Church URC, Chase Side, EN2 6NJ
---
Saturday 25 September

---
Sunday 26 September
Edmonton Methodist Church Hall, 304 Fore Street N9 0PN
---
Sunday 26 September
Pymmes Park Visitors Centre, N18 1HR
---
Sunday 26 September

---
Tuesday 28 September
The Southgate Club, 17 Chase Side, N14 5BP (Entrance is in Crown Lane)
---