This event was in the past. For current and future events visit our What's On Page.
Black History Month: Our young people are our future
Saturday 24 September 10.30am - 5.00pm
Enfield Grammar School, Wilford Close, Enfield Town, EN2 6LN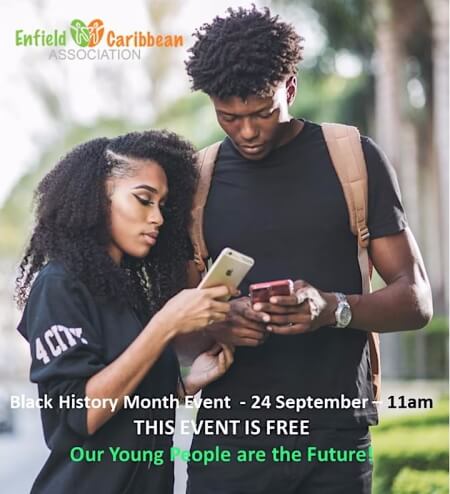 Our Young People are our Future! will be the theme for this FREE event which will start at 11am.
We are planning amazing speakers to start the day with some keynote speeches from Arthur Barzey Headteacher at Heron Hall Academy, winner of the prestigious Times Educational Supplement Headteacher of the Year Award. Patrick Vernon, writer of 100 Great Black Britons will also provide make an inspirational speech in the morning of the event. ECA's chair, Oveta McInnis will also provide a welcoming note to the celebration.
Free workshops include:
Getting onto the property Ladder: Daniel Wilson - 12.30-1.15pm
The workshop will provide practical advice and support for people wanting to get on the property ladder. If your thinking of buying a property for the first time or looking to rent, the session will provide useful advice for people looking to get a property during these difficult times.
Fundamentals of Freelancing: Roy & Cameron Edwards - 12.30-1.15pm
Working for yourself or starting your own business is an exciting opportunity. You might want to become self-employed so that you can focus on a hobby or project you're passionate about. Becoming self-employed is a lot to take on, but by taking things step-by-step and getting advice and support when you need it, you can make your new business work for you and your family. Fundamentals of freelancing will provide attendees with the advice, knowledge and skills to embark on a freelancing or self-employment career.
Mental Health/Wellbeing: Dr Amanda Brown-Bennett - 12.30-1.15pm
Health practitioners defines mental health as 'a state of wellbeing in which the individual realises his or her abilities, can cope with the normal stresses of life, work productively and fruitfully, and is able to make a contribution to his or her community'.
The workshop will help you to build a sense of belonging and self-worth; give you an opportunity to share positive experiences; provide emotional wellbeing
How to use your story to open doors: Amani Simpson - 12.30-1.15pm
Join award-winning storyteller, entrepreneur & youth coach Amani Simpson as he shares his top tips on how to package, promote and profit from your lived experiences.
Moves you need to make to build wealth: C Simpson - 2.30-3.15pm
Money Moves You Need to Make to Build Wealth Now & In the Future provides some practical advice and tips for generating and building wealth.
Positive Mindset: Dean Okai - 2.30-3.15pm
Both the talk and the workshop will focus on enabling young people to make the leap from being missiles to becoming guided missiles. The workshop is a short aggregation of social values and life tactics. These tactics include coping mechanisms, soft skills that improve social outcomes, removing pressure to socially conform with today's trends to focus on personal development and career pathways.
By exploring these topics, Dean intends to make the young people stakeholders and introduce them to being the governors of their own minds, which is their first house. He will use the white board to make some graphic examples because these lock in the subconscious mind and help the young people to adopt the concepts.
Employability: Dr Dwain Neal, OBE: - 2.30-3.15pm
In this workshop we shall be exploring the meaning of having employability skills in the UK, which is known as a qualification society. Participants will also explore the meaning of the term "system consciousness," and the central role it plays in accessing employment.
Cultural stalls and refreshments will be available throughout the day. The event will be completed with performances from local north London artists and performers.
PGC cannot guarantee that all What's On information is 100% accurate. If in doubt, we recommend you contact the organisers or visit their website using the More Details button.
Show map
Hide map
Enfield Grammar School, Wilford Close, Enfield Town, EN2 6LN