Saturday 12 December until Sunday 20 December
(not every day)
Let's Go On With The Show: Celebrating the best of musical theatre
Dugdale Centre, Enfield Town, EN2 6DS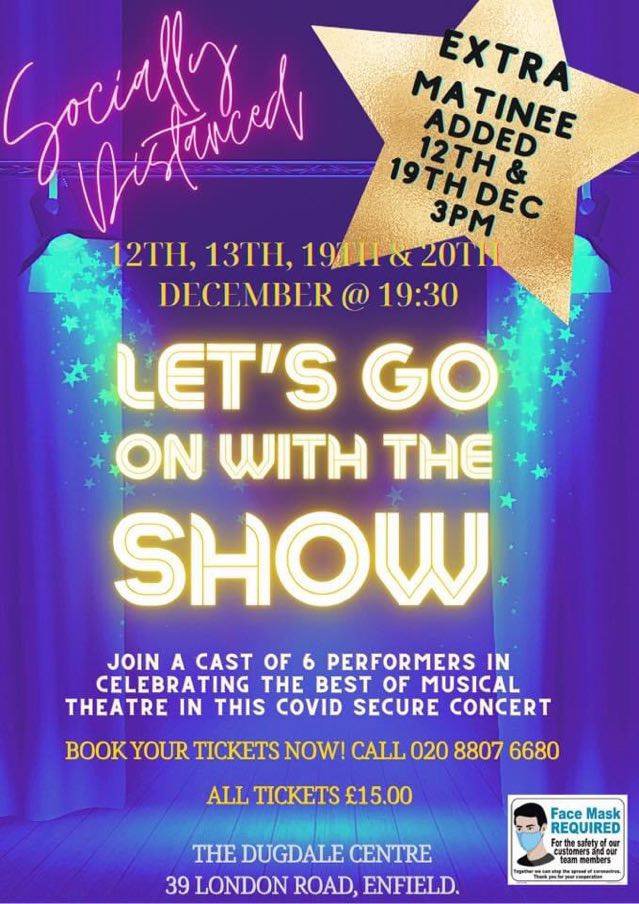 Lets go on with the Show is the very first socially distanced musical theatre concert to be performed at the Dugdale Centre this Christmas.
During the COVID-19 pandemic the future of the arts and culture in the UK has been under great threat and still even now its future is uncertain. What is for sure is that people need to smile, laugh and enjoy a fun evening out!
Following on from the success of CATS, GREASE, STARLIGHT EXPRESS and AVENUE Q, we are so pleased to have TNT Productions back with us for this once in a lifetime (hopefully) socially distanced, COVID secure concert.
Over the course of 4 performances 6 cast members will bring you a glitzy look into modern musicals with songs from 'The Witches of Eastwick', 'Dear Evan Hansen', 'The Prom', 'Come From Away', 'Frozen', '& Juliet' and 'Six' to name but a few.
Our cast will be socially distanced, temperature checked and ready to entertain you!
Give yourself the treat you deserve… Lets Go on with the Show is the night out you've been missing.
Please come along and support the local arts and culture in Enfield.
Cast includes:
Katrina Boyd, Charlotte Povey, Sarah Comerford, Danny Diss, Debbie Marsh, Bonnie Widger, Lizzie Droy, Michael Lacey, Jemma Hickman, Rosanna Cennamo, Lauren Price, Phil Crocker, Amy Breese, Niki Wolstenholme, Jodie Brooker, Kerry Stone, David Adams, Sam Cowan and SPECIAL GUEST APPEARANCE by Stunning Drag Queen Ruby Violet (Sunday 20th December only)
(Please note only 6 performers will appear at each performance, due to current regulations, to find out who will be playing each performance, please contact the Box Office)
Tickets £15
PLEASE NOTE Sunday 20th December is suitable for over 18's ONLY
Dates and times
Saturday 12 December 3.00pm
Saturday 12 December 7.30pm
Sunday 13 December 7.30pm
Saturday 19 December 3.00pm
Saturday 19 December 7.30pm
Sunday 20 December 7.30pm


PGC cannot guarantee that all What's On information is 100% accurate. If in doubt, we recommend you contact the organisers or visit their website using the More Details button.