This event was in the past. For current and future events visit our What's On Page
.
Thursday 16 September 8.00pm
Live music: KeitaBeat
Karamel, Chocolate Factory 2, Coburg Road, N22 6UJ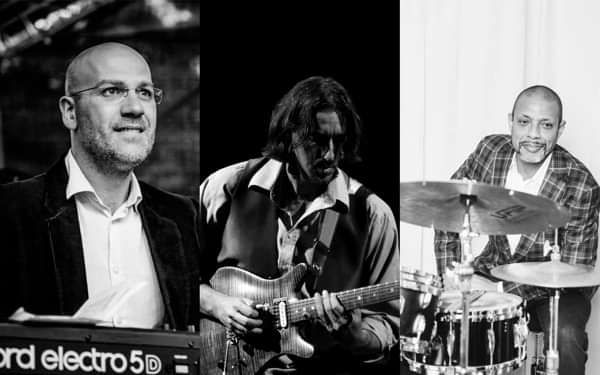 Collage Arts are delighted to present live music at Karamel with KeitaBeat…
KeitaBeat is specialising in playing rare o, jazz standards occasionally, Latin flavour and a pinch of Afrobeat. Three accomplished musicians playing for Karamel in a trio format. All are from Italy and have been on this great island for over 20 years.
On guitar Francesco Lo Castro, who has collaborated both in the studio and on tour across the world with artists including International Multi-Platinum seller Patrizio Buanne, Blue Note, best-selling act Us3 and two-time Grammy winner Eric De Fade, has an impressive six albums to his name.
On keyboard Claudio Corona, member of the Paul Garner Band, Crowd Company, Go Go, OST, Bad Girls Groove and Reuben Richard and the Soul Train who is also a visiting lecturer in the music department of West Kent-College, Tonbridge. He just released his very well received: Laying It Down.
Last but not least, Cosimo Keita Cadore on drums has played in countless venues in the UK and abroad. Amongst others he has supported Shakira, Lionel Richie, Usher, Ricky Martin, Mariah Carey, Eddy Grant, LSO, Nelly Furtado, Robin Eubanks, Jay Kelly, Tony Kofi, Jessica Lauren and was a cast member of the highly acclaimed BBC2 drama Dancing On The Edge.
"Why play at Karamel? Karamel is the place to be! Friendly, warm, lovely food (we are all Italians, we appreciate the culinary art). All of these are more than enough reasons!" - KeitaBeat
Doors open at 7pm, and music starts at 8pm.
Karamel has a fresh air ventilation system installed. We have limited seats available and maintaining social distancing. Please book a ticket in advance.


PGC cannot guarantee that all What's On information is 100% accurate. If in doubt, we recommend you contact the organisers or visit their website using the More Details button.