Tuesday 14 September 5.30pm - 7.00pm
Open-air theatre: Mr Stink
Broomfield Bowl, Broomfield Park, N13 4PZ
Friends of Broomfield Park in partnership with Enfield Council invites you to share in this exciting escapade, a David Walliams best seller, Mr Stink adapted for the outdoor stage.
Watch the colourful characters from the celebrated novel by David Walliams come to life in Heartbreak Productions' adaptation of Mr. Stink for the open air.
Mrs Crumb (or "Croooombe" as she would have it) is throwing a garden party for her high-achieving daughter, Annabelle. Desperate to appear as posh as possible, Mrs Crumb has organised sweet stalls, croquet and old fashioned party games with the aim to impress everyone. All ages are invited to come along, join in the organised fun and get to know the Crumb family and their community.
One party-goer, however, has not been invited and he happens to be an extremely stinky, homeless gentleman. This doesn't put off Mrs Crumb's eldest daughter Chloe. Often overlooked, Chloe and her inquisitive imagination soon put the wheels in motion for an unforgettable tale of friendship.
On a perfectly average afternoon, two restless souls unite on a bench in an average English town – one of them the lonely 12 year old Chloe and the other a very smelly homeless man. Oh, and let's not forget his loyal dog, the Duchess. Acting upon her curiosity and responding to her kindness, Chloe and Mr. Stink forge an extraordinary and rewarding friendship that takes them to the heady heights of live television and Downing Street via a garden shed


PGC cannot guarantee that all What's On information is 100% accurate. If in doubt, we recommend you contact the organisers or visit their website using the More Details button.
Upcoming Broomfield Summer Festival events

Click on names for details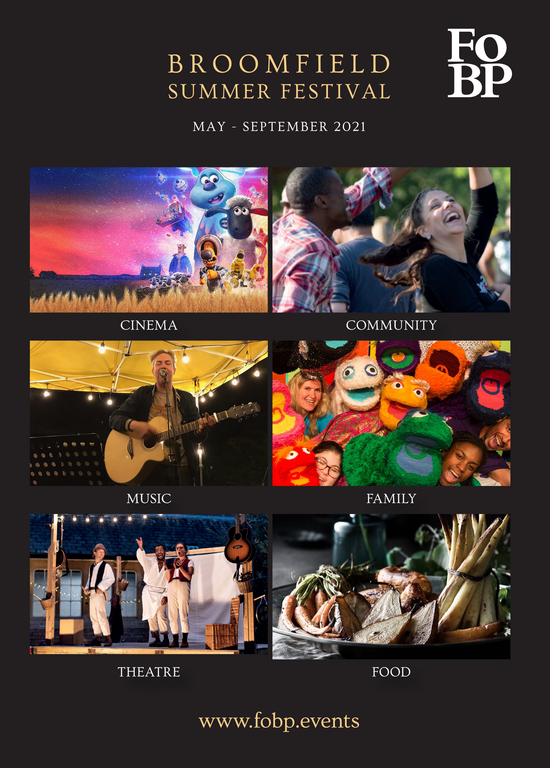 Saturday 31 July Open-air theatre: The Further Adventures of Dr Dolittle
Sunday 1 August Broomfield Blues: Down Home Blues
Saturday 7 August Open-air theatre in Broomfield Park: More Tales from the Shed
Sunday 8 August Broomfield Blues: Skiffle and Roots
Saturday 14 August Broomfield Summer Festival: The Secret Garden
Sunday 15 August Broomfield Blues: Chicago Blues & New York Blues
Wednesday 18 August Broomfield Summer Festival: Hexwood School of Sorcery
Saturday 21 August Broomfield Food Festival
Sunday 22 August Broomfield Blues: Back to the 50s and 60s
Thursday 26 August Coggers Funfair in Broomfield Park
Friday 27 August Open-air cinema: Farmageddon
Sunday 29 August Broomfield Blues: Can Blue Women Sing the Whites?
Monday 30 August Open-air theatre: The Miraculous Mis-Adventures of Robin Hood
Friday 3 September Talkies Community Cinema: Moulin Rouge
Sunday 5 September Open-air theatre in Broomfield Park: Romeo and Juliet
Tuesday 14 September Open-air theatre: Mr Stink
Sunday 19 September Apple Day in Broomfield Community Orchard
Thursday 23 September Zippo's Circus in Broomfield Park
Sunday 26 September Music in the Conservatory