Community Directory: Public Transport
Organisations in this category
Enfield Transport Users Group (ETUG)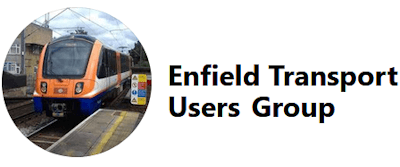 The Enfield Transport Users Group is a local organisation that acts as an independent, apolitical pressure group for local transport users across the London borough of Enfield and acts as a conduit to the council, TfL, Network Rail and other transport bodies that are involved in transport in and around the London borough of Enfield. Our aims are to: 
Provide a forum for residents with an interest in, or specialist knowledge of, all forms of transport.
Provide a two-way channel of informed opinion on transport matters between residents, councillors and officers of LBE.
 Consider & comment on proposed policy, legislation, service changes and other relevant matters relating to transport issues.
Consider transport issues from an informed point of view and present and represent the views of Enfield residents to LBE forums, councillors and officers.
We also host meetings quarterly (every 3 months) with one annual general meeting between March 1st and 1st of September depending on available dates between. 
Last updated: May 2023