Community Directory: Residents Associations
Bowes Park Community Association

The BPCA works to improve the area for the benefit of people who live, work or have an interest in Bowes Park and the surrounding area.
Our mission is to bring people together with events that celebrate the great things about our slice of London as well as protecting and conserving the physical and natural environment of our neighbourhood.
Last updated: January 2021
Broomfield Home-Owners & Residents Association
BHORA was established in 1929 and is the longest standing residents association in the London Borough of Enfield. It was set up to serve the interests of the local community organising social events, as well as tackling aspects of local life such as health, transport, and so on. The Association is non-political and non-commercial.
BHORA covers a large area from (south to north) the Haringey boundary at Bounds Green up to Broomfield Park and from (east to west) Green Lanes over towards Arnos Grove.
Last updated: October 2014
Federation of Enfield Residents' & Allied Associations
Enfield Borough is home to over 300,000 residents. Many belong to their local residents' association. FERAA is the body that represents the associations jointly, thus increasing the means to achieve results. On behalf of residents FERAA has been pressing for solutions to local problems for over 40 years. You can help us by joining your residents' association



Last updated: October 2014
Fox Lane & District Residents' Association

The Fox Lane and District Residents' Association (FLDRA) was formed in 1978 and is the sole voluntary body representing the interests of residents living within the area bounded by Bourne Hill, The Bourne, High Street, Cannon Hill, Aldermans Hill and Green Lanes. A total of around 3500 households, of which more than 560 households are currently members.
Last updated: March 2018
Park Avenue & New River Crescent Neighbourhood Watch
The Neighbourhood Watch was set up in 2014 by Pamela Ramtohul and has a Facebook Group page for communication.
Pamela is inviting anyone living in Park Avenue, New River Crescent or adjacent and neighbouring roads to join the Facebook Group. You can go straight to the page by clicking here or type in 'Neighbourhood Watch: Park Avenue and New River Crescent' to find the group. Then request membership and Facebook message the group (Pamela) telling her which road you live on. Once your membership is accepted, you will be able to post messages on the timeline, share information and complaints and suggestions, ask questions, keep up to date with the latest happenings in your neighbourhood and basically be involved.
Last updated: November 2014
Southgate District Civic Voice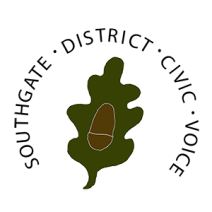 We are Southgate District Civic Voice (SDCV), a not for profit organisation run by volunteers. Our main area of interest includes: Southgate, Southgate Green, Cockfosters, New Southgate, Oakwood, Palmers Green and Winchmore Hill. An area loosely based on the old Southgate Municipal Borough, abolished in 1965 to form part of the London Borough of Enfield.
Founded in 1962 as Southgate Civic Trust, in response to the threat to demolish the Georgian cottages on Southgate Green and dissatisfaction with official planning procedures. This fight contributed to the creation of Southgate Green conservation area. In 1993 the Trust's name was changed to Southgate District Civic Trust to better reflect our area of interest. Then in 2018, marking our continued ability to evolve and speak up for our local community, we became Southgate District Civic Voice.
Last updated: June 2020
Southgate Green Association

The SGA is an organisation dedicated to preserving and enhancing the Southgate Green Conservation Area. Southgate Green, located on the southwest boundary of the London Borough of Enfield, was designated a Conservation Area in 1968. It covers approximately 31 hectares, with over 30 listed buildings and structures. The Conservation Area radiates from Southgate Green northwards along the High Street, westwards down Waterfall Road and southwards along Cannon Hill until the junction with Alderman's Hill. The buildings and spaces along these roads form a village envelope which has a special character and appearance described in the Conservation area character appraisal.
Last updated: February 2021
Weir Hall and District Ratepayers' Association

The Association is independent of any political party and has been serving householders in this area since 1930
The Association safeguards your interests and acts as a watchdog on your behalf in respect of all developments in the  area
The Association represents your views to the local authority and will investigate any matter brought to its attention
The Association's solicitor will give members free preliminary legal advice relating to house ownership, the local  authority or any other matter of concern
Members are warmly welcomed at the Association's meetings and receive two informative and lively magazines each  year that keep them up to date with what is happening in the area
Area covered
Boundaries:  On the West side * Firs Lane, Connaught Gardens, Chequers Way, Tottenhall Road; on the South side * Empire Avenue, Wilbury Way; on the East side * Haselbury Road, Bull Lane; on the North side * Deansway, Rayleigh  Road.
Last updated: September 2020
Winchmore Hill Residents Association
The Winchmore Hill Residents' Association covers an area bounded by Green Dragon Lane, Firs Lane, Hedge Lane, Bourne Hill, Oakwood Park and incorporates Winchmore Hill Ward and part of Grange, Bush Hill, Palmers Green and Southgate Wards.
Last updated: September 2022